Out exploring in my old Grumman canoe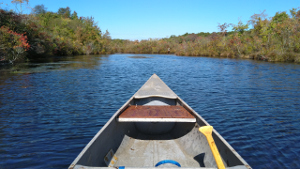 I've always enjoyed canoeing. As a kid my dad used to take us out in rental canoes when we were camping in Vermont or upstate New York. Once when we were horsing around on Emerald Lake in Vermont we flipped his canoe and the car keys fell out of his pocket which would have been a horrible mess had they not been found again after a few dives in the crystal clear water.
My old Grumman canoe
I bought a canoe of my own back in the early 90s from a friend of a friend. He had acquired a bunch of old Grumman canoes from a boy scout camp which were riddled with holes and being replaced, and he had done a decent job of patching them with riveted aluminum and fiberglass patch. I used to take it out a lot back then but its been a long time since its seen water.
I've been itching to get back out there and recently cleaned it up and started gathering my gear. Although a Grumman canoe's most distinctive feature is its shiny aluminum hull I had decided when I first got it that I would paint it to cover the numerous patches and give it a sort of uniform appearance. I sort of wish I hadn't done that now, but for the most part the paint has held up. The rear seat was missing and has been replaced with some salvaged aluminum and a piece of 1/2 inch plywood cut to fit and linseed oiled every so often.
Since its been a great many years since I've gone out my first concern was whether I could even load the canoe on a vehicle by myself. My 15 foot Grumman canoe weighs 54.3 pounds which is fairly light as Grummans go. I only discovered the reason for this recently. The internet as we know it didn't exist when I first got the canoe and in all the years since I had never done a search on the boat's serial number to learn anything about it.
As it turns out, according to this very helpful thread on iBoats.com my canoe is a very early example of Grumman's 15 foot model and its number suggests it was built sometime around 1948! Given that this 70 year old canoe has spent most of its life being abused by boy scouts or left to the vagaries of the weather by yours truly its in amazingly good shape. These very early Grumman canoes were lighter than Grumman's later models because they were constructed of thinner aluminum sheet. The number on the plate confirms that mine is .030 thickness. Sometime in the early 1950s after receiving lots of complaints about how easily the boat's hulls were getting ripped open or otherwise damaged by river rocks they changed to use .050 thickness aluminum which they used as standard for decades thereafter and which made those later models considerably heavier.
Transport
Since I planned to transport the canoe on a small sedan, I didn't have to lift it very far. I decided to throw an old blanket over the roof to avoid scrapes when placing it up there which I removed as I placed the four foam standoffs. I don't remember where I got the foam blocks, but they are really dense foam and wedge shaped. Most of the foam blocks I saw on Amazon were in kits of stuff I wouldn't recommend but what I have looks most like these. Then I open the doors and strap the canoe down tight fore and aft with two of these lashing straps. Lastly, you need to tie the bow and the stern to the vehicle so it can't shift left or right. I create a 10 inch loop with some doubled up paracord which I leave tied through the tiny holes fore and aft on the canoe and to this I tie some regular cotton clothesline to tie to the passenger and driver side undercarriage. Remember to actually tie the cord at the ends of the canoe, don't just pass the cord through the loop or it will end up askew as soon as you hit even a moderate wind.
Equipment
Since all the old life vests had been chucked at some point in the past I had to get a new one. I settled on the inexpensive MTI Expedition Life Vest in Yellow from Dicks Sporting Goods (about $40) which, while it has no velcro pockets (something I wanted), it does have very small shoulder straps which makes movement (and paddling) much easier. My old life vest had large shoulder pads and they were constantly hitting me in the face. Also, this new one has a belt clasp as well as a zipper which I like because that takes some strain off the zipper.
I prefer wooden paddles and while I already had two, one is quite short (48 inches) while the other is somewhat longer (52 inches). I remember the shorter one being annoying for me to use and since I was hoping to go out with a buddy sometime soon I wanted to make sure I had another longer one. Neither Dicks, LL Bean, nor Preston's Marine in Greenport had wooden paddles in stock! I ended up buying this 54 inch paddle online and it seems sturdy enough so far. However, now that I've done a couple solo paddles I'm starting to consider a kayak (double ended) paddle.
The winds this weekend have been 12-15 mph so both of my forays out involved a certain amount of struggle. Even though I sat backwards in the forward seat (which puts me nearer to the center of the boat) I still ended up paddling backwards a lot to make any headway upwind, otherwise the boat was just blown immediately around. I might need to consider setting up a seat dead center if I plan on doing many more solo trips.
What I take with me in the canoe hasn't changed much over the years. I don't fish so I don't need any fishing gear.
A wide brimmed hat to keep the sun out of my eyes.
a water bottle - my healthy human water bottle keeps the water cold all day.
An extra paddle in case I lose grip on the one I'm using
My car keys on a belt clip
My wallet and phone in a sealed freezer bag which I stuff into a velcro pocket on my cargo shorts
One of my lashing straps which I keep fast to a support so I can tie up if needed.
One thing thats changed since when I used to go out years ago is that my cellphone also functions well as a camera and has built in GPS so I can see exactly where I am on a map. If I am in cell range, I can even share my location with interested folks.
Another beautiful weekend of cooler temperatures inspired yet another trip on a different section of the same river. This is the section closest to my childhood home and so I'd spent many a day exploring along it years ago and thankfully it looks very much the same as it once did. This time I had the pleasure of an additional crewman and as there wasn't very much wind, we were able to explore a greater distance than I would have been able to alone.
The current was very strong in some of the narrower sections which required some careful navigation, but of greater concern was navigating the multitudes of swans we met up and down the river. These birds can be ferocious when provoked so we did our best to approach slowly and allow them to move out of the way.
We portaged over the small dam, and past several wooden wiers all designed to do the job that beavers must once have done to hold back the water and create wide, open, marshy biomes and habitat along what otherwise would be a narrow, deep, fast moving stream in the woods. We saw a lot of wildlife including trout (the parks department used to operate a fishery here and I assume still does so) as well as some apparently non-native plants if these are really day lillies?
We stopped about three quarters of the way upstream at a small dock to have some lunch. It was here where I once spent time swimming with high school friends on a summer afternoon taking turns diving through a particularly narrow section where the current was swift and sent you rocketing through like a log flume ride at a water park.
Finally we made it all the way upstream to the railroad trestle. Built in the late 1800s I had spent time here as a teenager as well. It looks pretty much the same, just covered in new grafitti.
The boy scout foot bridge which was still functional when I was much younger is now just a series of uprights across the river.
The trip back downstream went much quicker! For most of the trip I could just steer and didn't even have to paddle. We only met a couple kayakers on the trip, a couple guys who were travelling upstream and interested in information about how far they could get but the main annoyance for me was a couple prop planes that were circling overhead the whole time which really killed the idea that we were in wilderness. Still in all, a wonderful day on the water.